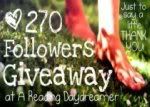 I'm thrilled to announce my
270 Followers Giveaway
! Back in April I reached
100+ followers
but I didn't have time to organise a giveaway for all you lovely people at the time so I promised to hold one in June. I was hoping I'd return from my hiatus to 150 followers at most but here I am now with 270 (plus 16 from Linky and Networked)! *Squeals with delight* Thank you to all my followers - new and old! You guys are the best and I would give you all cupcakes if I could <3 I've only been blogging for less than half a year and I never thought I'd get this far with my l'il blog! Massive thanks again to those of you who have supported A Reading Daydreamer <3
As a way to say a little thank you, one lucky follower will win a
YA book of their choice
under
£7 or $11
(USD)
from The Book Depository! If I manage to reach
500 GFC followers
(am I being greedy?)
, I will add another winner - it's unlikely I will gain
that
many but a girl can always dream, can't she?
Here are the rules or terms and conditions - whatever you want to call them!:
- Fill in the Rafflecopter below - please don't leave personal details in the comments section.
- The giveaway is
INTERNATIONAL
as long as The Book Depository ships to your country for free (click
HERE
to check)
- You must be 13 or older to enter. If you are under 13, please ask your parent/guardian for permission first.
- There will be one winner unless I reach 500
GFC
followers, in which case there will be two
- The winner(s) must choose a
teen/YA
book (no baby or adult fiction) up to the value of
£7
or
$11 (USD)
- As TBD is sending out the prize, I am not responsible for books lost or damaged in the post
- The only mandatory requirement is that you are a follower via
Google Friend Connect (GFC)
-
Other entries are optional but completing them could give you a better chance of winning :)
- Giveaway ends on
August 2st 2012
at 12:01am EST
- I will email the winner who must reply within
48 hours
, otherwise the prize will go to someone else :(
I think I've covered everything so good luck and may the odds be ever in
your
favour!
This summer the blog should be more updated since I'm not going on holiday, so I'll have lots of time to catch up on everything I've missed!
Thanks again to you all!!!!! I hope you have a lovely summer full of fun! <3
a Rafflecopter giveaway
Beverley xxx